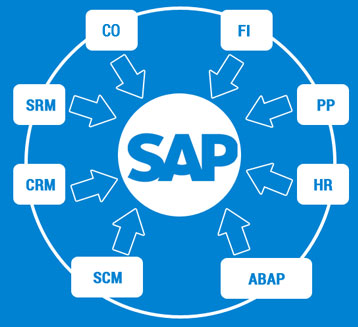 SAP ( "Systems, Applications & Products in Data Processing")
A German software company whose products allow businesses to track customer and business interactions. SAP is especially well-known for its Enterprise Resource Planning (ERP) and data management programs. SAP is an acronym for Systems, Applications and Products. SAP is one of the largest enterprise software companies in the world, helping businesses of all sizes, in all industries run better.
Implementation
SAP ERP consists of several modules, including
Financial Accounting (FI),
Controlling (CO),
Asset Accounting (AA),
Sales & Distribution (SD),
Material Management (MM),
Product Planning (PP),
Quality Management (QM),
Project System (PS),
Planned Maintenance (PM),
Human Resources (HR),
SAP ERP collects and combines data from the separate modules to provide the company or organization with enterprise resource planning.
List of SAP products
This presents a partial list of products of the enterprise software company SAP SE.
•SAP S/4 HANA
•SAP CRM (Customer Relationship Management)
•SAP ERP (Enterprise Resource Planning)
•SAP PLM (Product Lifecycle Management)
•SAP SCM (Supply Chain Management)
•SAP SRM (Supplier Relationship Management)
Software for small and midsize enterprises
•SAP Anywhere
•SAP Business One (6.2, 6.5, 2004, 2005, 2007, 8.8x, 9.X)
•SAP Business ByDesign