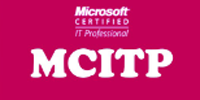 For Details Contact Call +919633 799666 or 0495-4099666
The Microsoft Certified IT Professional (MCITP) credential is the leading certification for Windows Server 2008. It provides widely recognized, objective validation of your ability to perform critical, current IT job roles by using Microsoft technologies.
Exam Papers
1. 70-680 : Configuring Windows 7
2. 70-640 : Windows Server 2008 Active Directory, Configuring
3. 70-642 : Windows Server 2008 Network Infrastructure, Configuring
4. 70-643 : Windows Server 2008 Application Infrastructure, Configuring: Deploy Servers
5. 70-647 : Windows Server 2008, Enterprise Administrator
---
70-680: Configuring Windows 7
Install, Migrate, or Upgrade to Windows 7
Windows 7 Editions
Windows 7 Hardware Requirements
Preparing the Windows 7 Installation Source
Installing Windows 7
Upgrading to Windows 7
Upgrading from Windows 7 Editions
Migrating from Windows XP
Managing User Profiles
Migrating User Profile Data
Windows Easy Transfer
User State Migration Tool
Configuring System Images
Managing Virtual Hard Disk Files
Managing Devices and Disks
Managing Device Drivers and Devices
Installing Devices and Managing Device Drivers
Managing Disks
Disk Maintenance
Changing Disk Type and Partition Style
Managing Disk Volumes
Investigate the Group Policies Available for Managing
Device Installation
Use the Driver Verifier Monitor Tool
Use Diskpart
Managing Applications
Application Compatibility
Configuring Compatibility Options
Windows XP Mode for Windows 7
Managing AppLocker and Software Restriction Policies
Configuring Application Compatibility
Network Settings
Configuring IPv4
Introduction to IPv4 Addressing
Connecting to a Network
Troubleshooting Network Connectivity
Network Configuration
Connecting to a Network
Managing Network Connections
Windows Firewall and Remote Managemen
Windows Firewall with Advanced Security
Windows 7 Remote Management
Remote Desktop
Remote Assistance
Telnet
Windows Remote Management Service (WinRM)
BranchCache and Resource Sharing
Sharing Resources
Network And Sharing Center
HomeGroups
Folder and File Access
File and Folder Permissions
Configuring Auditing
Encrypting File System
BranchCache Concepts
Permissions and Encryption
Configure File and Folder Access
Managing User Account Control
User Account Control (UAC)
UAC Settings
User Account Control Policies
Secpol and Local Security Policy
Windows 7 Authentication and Authorization
Credential Manager
Configuring User Rights
Smart Cards
Account Policies
Resolving Authentication Issues
DirectAccess and VPN Connections
Understanding DirectAccess
Remote Connections
Auditing Remote Connections
Bit Locker and Mobility Options
Managing Bit Locker
Windows 7 Mobility
Offline Files
Windows 7 Power Configuration
Windows Update and Windows Internet Explorer
Updating Windows 7
Configuring Internet Explorer
Internet Explorer Compatibility View
Configuring Security Settings
SmartScreen Filter
Managing InPrivate Mode
Add-Ons and Search Providers
Pop-Up Blocker
Configuring SSL Certificates
Monitoring and Performance
Monitoring Systems
Performance Monitoring and Reporting
Tracking System Reliability, Stability, and Overall
Performance
Configuring Hard Disk Write Caching
Windows Performance Analysis Tools
Using Data Collector Sets and Event
Use the Performance Monitoring Tools
Manage Event Logging
Recovery and Backup
Implementing System Image Backups
System Recovery
Performing a System Restore
Advanced Boot Options and System Recovery Options
Windows 7 Boot Options
Rolling Back Drivers
Recovering Files and Folders
Restoring Damaged or Deleted Files by Using
---
70 – 640 -Windows Server 2008 Active Directory
-Configuring DNS for Active Directory
-Configuring zones
-Configuring DNS server settings
-Configuring zone transfer and Replication
-Configuring the AD infrastructure
-Configuring a forest or a domain
-Configuring trusts
-Configuring sites
-Configuring AD replication
-Configuring the global catalog
-Configuring operation masters
-Configuring additional AD server roles
-Configuring AD Lightweight Directory Services (AD LDS)
-Configuring AD Rights Management Service (AD RMS)
-Configuring read-only domain controller (RODC)
-Configuring AD Federation Services (AD FS)
---
70-642 -Windows Server 2008 Network Infrastructure, Configuring:
-Configuring IP Addressing and Services
-Configuring IPv4 and IPv6 addressing
-Configuring Dynamic Host Configuration Protocol (DHCP)
-Configuring routing.
-Configuring IP sec
Configuring Name Resolution
-Configuring DNS Server
-Configuring DNS zones
-Configuring DNS records
-Configuring DNS replication
-Configuring name resolution for client computers
Configuring Network Access
-Configure remote access
-Configure wireless access
-Configure firewall settings
Configuring File and Print Services
-Configure a file server
-Configure Distributed File System (DFS)
-Configure shadow copy services
-Configure backup and restore
-Manage Disk Quotas
-Configure and monitor print services
Monitoring and Managing a Network Infrastructure
-Configure Windows Server Update Services (WSUS) server settings
-Capture performance data
-Monitor event logs
-Gather network data
---
70-643 -Windows Server 2008 Application Infrastructure, Configuring:
-Deploy images by using Windows Deployment Services
-Configure Microsoft Windows Activation
-Configure high availability
-Configure storage
Configuring Terminal Services
-Configure Windows Server 2008 Terminal Services RemoteApp (TS RemoteApp)
-Configure Terminal Services Gateway
-Configure Terminal Services load balancing
-Configure and monitor Terminal Services resources
-Configure Terminal Services Licensing
-Configure Terminal Services client connections
-Configure Terminal Services server options
Configuring a Web Services Infrastructure
-Configure Web applications
-Manage Web sites
-Configure a File Transfer Protocol (FTP) server
-Configure Simple Mail Transfer Protocol (SMTP).
-Manager Internet Information Services (IIS)
-Configure SSL security
-Configure Web site authentication and permissions
Configuring Network Application Services
-Configure Windows Media Server
-Configure Digital Rights Management (DRM)
-Configure Microsoft Windows SharePoint Services server options
-Configure Windows SharePoint Services e-mail integration.
---
70-647 -Windows Server 2008, Enterprise Administrator:
Planning Network and Application Services
-Plan for name resolution and IP addressing
-Design for network access
-Plan for Terminal Services
Design Core Identity and Access Management Components
-Design AD forests and domains
-Design the AD physical topology
-Design the AD administrative model
-Design the enterprise-level group policy strategy
Designing Support Identity and Access Management Components
-Plan for domain or forest migration, upgrade and restructuring
-Design the branch office deployment
-Design and implement public key infrastructure
-Plan for interoperability
Design for Business Continuity and Data Availability
-Plan for business continuity
-Design for software updates and compliance management
-Design the operating system virtualization strategy
-Design for data management and data access